Looking to save on your utility costs and environmental impact? Unlike most Opportunity Council services, our Community Energy Challenge (CEC) partnership with Sustainable Connections is available to anyone, regardless of income. This fee-for-service program has helped homeowners with energy efficiency improvements since 2010 in Whatcom, Skagit, Island, and San Juan Counties.
Here's how it works:
You receive a thorough home energy audit ($195) from one of our expert Energy Advisors
Your advisor provides a report and customized list of recommended improvements
If you choose to proceed with a project, we help you find a contractor and review bids
Once work is complete, the CEC sends you an incentive check (usually 20% of project cost)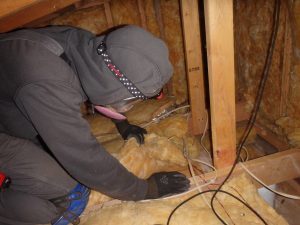 A Community Energy Challenge team member looks at attic insulation during a home energy audit, where he determines what energy efficiency improvements to recommend to the homeowners.
An Energy Advisor from the Community Energy Challenge examines a can light with an infrared camera, looking for evidence of air leakage around the light.
The CEC not only has incentives for weatherization measures like air sealing and insulation, but it now also provides incentives for high-efficiency electric heat pumps (up to $800) and heat pump water heaters (up to $400).
And if you meet the CEC's moderate-income qualifications, in addition to a reduced cost ($95) energy audit, you can get a CEC incentive covering 45% of project costs for weatherization measures, up to $2000 for a heat pump, and up to $1000 for a heat pump water heater.
Contact kris_forck@nulloppco.org or call 360-676-6099 to learn more about the CEC, or sign up for an energy audit.