Eight Whatcom County families graduated August 31st from our free financial literacy course that teaches money management skills and offers monetary incentives. Enrollees who successfully completed our Economic Security for All (EcSA) program celebrated their new confidence and opportunities at the program's first-ever graduation ceremony.  
Each year-long course combines education, mentorship, career coaching and planning, and support to overcome barriers to participants' success. This builds financial resilience by helping families start an emergency fund, create a family budget, and build credit. The course is designed to engage the whole family, so enrollees with children are asked to include them and receive age-appropriate curriculum.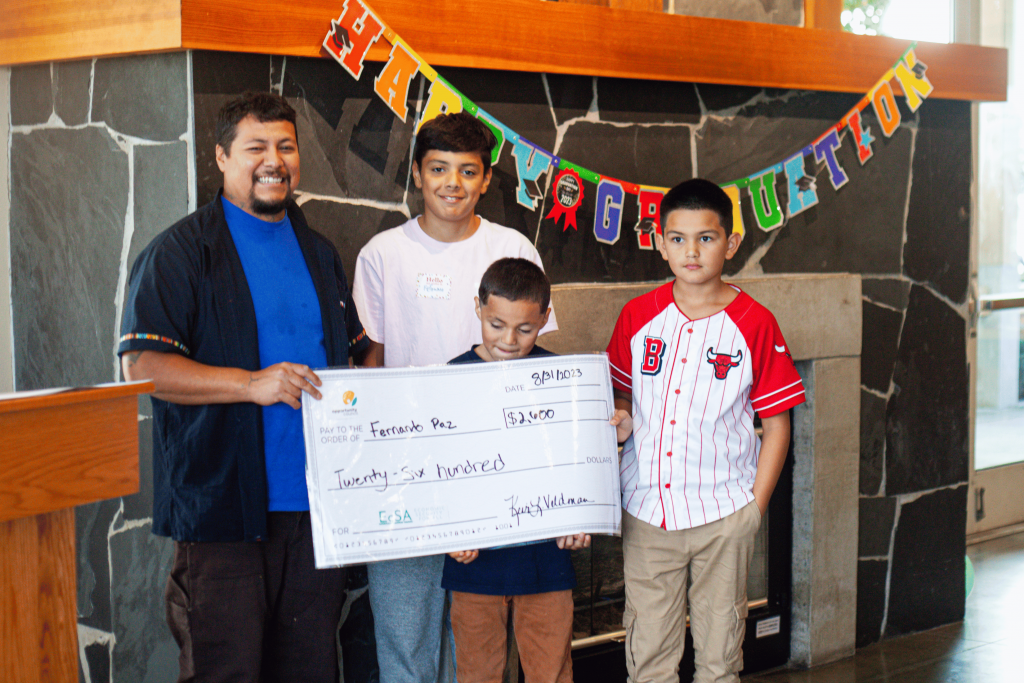 EcSA mentors collaborate with mentees to develop goals, and they coach them through group and one-on-one activities using the EcSA program financial toolkit. Mentors work hand-in-hand with their enrollees to build their financial resilience, making a true difference in their lives. Some graduates of the program have gone on to become EcSA mentors.  
"The information provided was well-structured and fun to go through," said a mentor of the program. "It's empowering for mentors and participants alike because there's always something to learn from our community. Sharing support is invaluable when it comes to sometimes-touchy topics like finance."  
Participants also go through employment counseling with a career coach at Northwest WorkSource Council, a partner of the program. Here, they identify their own strengths, interests, and work ethic. They also develop a career plan that meets their family's needs.  
Families graduate the program better equipped to manage their income and new opportunities. Many continue into a 2-year certification or 4-year degree or go on to secure a high-paying job with benefits.  
"This program has helped push me to do things that I knew I was capable of all along, and just needed someone to believe in me and give me a nudge," said a program participant. "I'm very proud of myself for going back to school and pursuing a degree in early childhood education and psychology." 
EcSA is currently enrolling participants, and recently expanded to Island County. The program will keep running through June of 2025 and is also in need of volunteer program mentors. Those interested are invited to apply online to mentor or participate in the program. 
Check out our press release about the program graduation! The full text was published by the Whidbey News-Times. The Lynden Tribune also published a news brief of it.
Program Coordinator Kevi Veldman stressed the financial resilience families gain through the program as they get over hurdles, all the while gaining confidence in themselves and their ability to get through barriers and "accomplish almost anything," as she described it. 
"A big weight is lifted off them," Veldman said. "You see a full-circle moment."  
The program is available to Whatcom and Island County families and individuals who receive SNAP benefits and are searching for employment or on-the-job training. Participants may earn up to $3,200 once they complete the program goals. Families are encouraged to open child saving accounts to deposit $250, with each dollar deposited matched by the program to incentivize starting early on saving. 
After they complete these goals, families can use the financial incentive for all kinds of needs – like to pay outstanding court fees, get a car, or pay off debt – creating a foundation for success, Veldman said. 
Economic Security for All – Opportunity Council and Northwest Workforce Council are funded in part by Federal WIOA funds. The Opportunity Council and the Northwest Workforce Council are equal opportunity employers/programs.