May is Community Action Month. While you may have never heard of it, celebrating this month is meaningful to all the Community Action Agencies like Opportunity Council, which are part of a national network making communities stronger so that families and individuals can thrive. 
Opportunity Council, along with many others, started in the mid-'60s when President Lyndon B. Johnson signed the Economic Opportunity Act of 1964 to fight poverty in communities across the country. Community Action Agencies were created to be led by the communities they serve, and to evolve along with their local needs.  
Our impact continues to be helping individuals and families in the here and now, and serving as long-term investments in our communities' futures. Through a sprawling network of Opportunity Council programs and services as well as partnerships with other agencies, this impact takes shape. 
Community Action Month is an opportunity to celebrate the collective work of these agencies all across the country and the work done by so many capable program staff. This may mean helping others with their utility and rent bills, or helping children and families in need of childcare or the support to prepare them for Kindergarten. This may mean building someone's financial wellness, or empowering them to secure housing. It could mean preparing someone in their area to gain employment, or to build relationships with people who are unsheltered so they can move toward a safe home. 
This month showcases what we can achieve when we work together, and the many things that community action already has.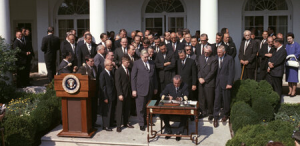 President Lyndon B. Johnson signs the Economic Opportunity Act of 1964, out of which Opportunity Council was born.