Beginning in 2021, Juneteenth was established as both a state and federal holiday,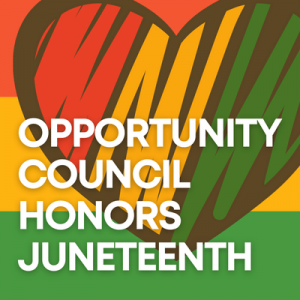 but the history of Juneteenth starts more than 150 years ago. 2022 marks Opportunity Council's first year of recognizing Juneteenth as a staff holiday (observed on June 20th). In honor of the holiday, we ask our staff, community, and supporters to consider and learn from our history.
"As a Community Action Agency, rooted in the Civil Rights Movement of the 1960s, it is appropriate and meaningful that we recognize Juneteenth as a time for all OC staff to take time to celebrate momentous civil right milestones, and to learn about the legacy of trauma for Black Americans that continues long after the Emancipation Proclamation. Juneteenth, as a holiday, supports the values we share and our commitment to a more inclusive workplace. The experience of Black people in America, and the struggles that they have endured is important to acknowledge, not just as something we need to empathize with, but as a symptom of white supremacy that we need to actively combat. OC will continue to embody the spirit and meaning of Juneteenth in all that we do for our community." explains Greg Winter, Executive Director.
Juneteenth, also known as Emancipation Day and Freedom Day, is held in recognition of June 19th, 1865 when enslaved Black people in Texas were told by federal troops that they were free. Although the Emancipation Proclamation was adopted two years prior in 1863, many enslaved people in Texas spent additional time in bondage and were unaware of their emancipation. For this reason, we recognize Juneteenth as a celebration of the end of chattel slavery in the United States, and a time to reflect on the historical and lasting impacts of the moral stain of slavery. While the significance of this holiday weighs heavy, it's also recognized through the celebration of resiliency, reconciliation, and healing, along with Black heritage, culture, and history.
 "Juneteenth reminds me that – Studying history helps us understand and cope with complex questions and problems by examining how the past has shaped (and continues to shape) our world, our country, and local relationships and cultures between communities and people. As we celebrate Juneteenth we hope others will take the opportunity to consider and learn from our history. We can start by asking:
What did our predecessors do right, and what could they have done better?
How can we move forward into our future in the best way possible for all people?
Positive change starts with knowing our history and committing to a better future for our neighbors, our families, and ourselves.
We must embrace the lessons of our history and choose to do our part to make a better future.
Our best future is a choice." Pamela R. Wheeler, PhD, Chief People and Culture Officer
Celebrating Juneteenth:
We everyone to honor this day by spending time learning from the past and committing to an anti-racist future. Here are some Juneteenth-related activities and resources we hope you enjoy:
Attend an event:
Get out in nature: Juneteenth has been designated a "discovery pass free day"—so explore Washington state parks for free, while listening to an educational podcast about the history of Juneteenth!
Watch: Hear from Laura Smiley, a formerly enslaved person in Texas, as she describes what it was like to receive the news about freedom in 1865.
Support: In February, OC employees created a list of their favorite Black-Owned businesses for Black History Month. Check out the list and support local businesses!